Since I've not been to any gigs in the last week, I thought I'd upload a mixtape for your listening pleasure. So here it is, the first in an irregular series of mp3 blogs.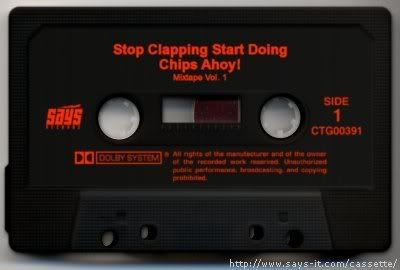 CLICK
Battles - Race In
The Hold Steady - Chips Ahoy!
The Maccabees - Latchmere
Rotary Ten - Oh No! Oh Yes!!!
Kubichek! - Stutter
DANANANANAYKROYD - Some Dresses
Faraquet - Cut Self Not
This Ain't Vegas - 100 mph
Deerhunter - Octet-stream
Owen - I Woke Up Today





We start the very first SCSD Mixtape with the opening track from the new Battles album. If you've heard the new single "Atlas", you'll know they've started using vocals. The vocal part on this song sounds a bit like Destiny's Child meets The Chipmunks, but mixed with the usual tech-math-rock vibe of Battles it works well. Next up is The Hold Steady. They sound a bit like Bruce Springsteen. Watch out for the keyboard break. Listening back, it seems that the mp3 of "Chips Ahoy!" is fairly low quality. For this, I apologise. From a song about horse racing we move to a song about a swimming pool. Part of me doesn't want to like The Maccabees but it turns out their recently leaked album, from which this is taken, is actually pretty good. What do you know. It also turns out that a band (Rotary Ten) whose main influences are Haven and Longview can be good. Not really. They're better then Longview.* Kubichek! have been around for a while now and finally released their debut album this week, and very good it is. Why not read Matt's review of it here. This version of "Stutter" is taken from their very first 7" which came out a couple of years ago on Fantastic Plastic. DANANANANAYKROYD are from Scotland, have two drummers and are very, very good. This is all you need to know. Faraquet were a three-piece from Washington DC. They put out one album, "The View From This Tower", on Dischord, which is worth tracking down if you like jerky, angular indie-rock. Or math-rock, if you're not adverse to such a genre. Returning to the North-East we have This Ain't Vegas with a song from their very first 7", released many years ago. They released their second album last year, which builds on the whole Devo-meets-Fugazi sound of "100 mph". If you ever read Pitchfork you've probably heard of Deerhunter; their latest album was recommended listening last month so they may well blow up by the end of the year. They play a kind of droney-shoe-gazey thing; lots of delay and reverb. All good. Finally, we round things off with Mike Kinsella's Owen. Technically he is a sing-song writer, but don't let that put you off. This version of "I Woke Up Today" is taken from a session which you can download from here.




So there you have it, my very first mp3 blog. Did you enjoy? Do you have any thoughts or comments? Did you bother to read/listen to the whole thing?





*If you actually listen to their song, you'll notice they don't sound like Haven or Longview. At least not a lot.